Filter by Category
Our Classes
Registration Unavailable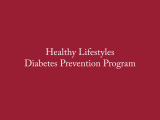 Registration Unavailable
Healthy Lifestyles Diabetes Prevention Program
with Ellie Foster

Jan 10, 2018 at 5 pm
Healthy Lifestyles is a diabetes prevention program from the U.S. Centers for Disease Control and Prevention. The program teaches lifestyle changes to prevent Type 2 diabetes.
This WOW! Health and Wellbeing program is available at no cost to all MaineHealth employees and spouses/partners who are covered by the MaineHealth medical insurance plan.
Code: Healthy MH Employee
Click here to see if you may be at risk for Type 2 diabetes. Please note: This program is not designed for people who have already been diagnosed with Type 2 diabetes.
The program will help you:
Learn how to eat healthier, be more physically active and manage stress
Develop skills to make healthier choices to lose weight
Get the long-term support you need to stick with the changes
The Healthy Lifestyles program meets for one year: once a week for 16 weeks, then bi-monthly or monthly for the rest of the year. A trained lifestyle coach will provide guidance and encouragement throughout the program. Classes are one hour, and will be held at the same time and place each week.
The class begins on Wednesday January 10, 2017 at 5:00 PM, and in-person classes will meet at the Learning Resource Center classroom, 100 Campus Drive West Entrance in Scarborough.
Class dates: 1/10 In-person, 1/17, 1/24, 1/31 Online, 2/7 In-person, 2/14, 2/21, 2/28 Online, 3/7 In-person, 3/14, 3/21, 3/28 Online, 4/4 In-person, 4/11, 4/18, 4/25 Online, 5/9, 5/23, 6/6, 7/11, 8/8, 9/12, 10/10, 11/14 and 12/12 In-person.